When you fail to repay your debt, a creditor can file a lawsuit and get a judgment against you. But you filing for bankruptcy can eliminate that judgment against you and wipe out that debt.  Creditors seek judgments because a judgment creates a lien that allows them to seize property from debtors.
Getting rid of debt is much easier than getting rid of a lien in bankruptcy. An existing lien on your property means that you cannot sell or refinance the property later.
How Bankruptcy Can Help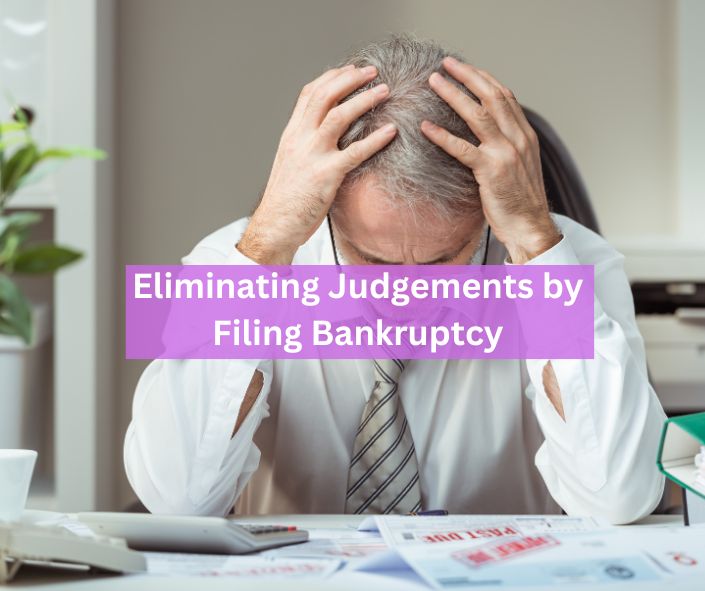 Bankruptcy makes it possible to erase judgment debt and will erase liens. But the most important thing it does is stop creditor collection actions.
That means you no longer have to worry about repossessions, foreclosures, aggressive calls from creditors, and other collection practices.  You should take time to learn how bankruptcy works before you file for bankruptcy.
How Bankruptcy Stops Collection Actions
Debtors who fail to file an answer when a creditor files a lawsuit against them for unpaid debt, risk losing the case.
When you lose a case, the court enters a money judgment for the amount you owe the creditor and other amounts such as attorney fees and lawsuit costs.  Creditors seek a money judgment because it allows them to garnish your wages without your approval.
They can also garnish your bank account even if you protest.  They can seize both your real and personal property and sell them.  But when you file for bankruptcy after the judgment, an automatic stay order will be issued by the bankruptcy court.
This order stops the creditor's collection actions. See also…Auto Loan Charge-offs.
Understanding How Bankruptcy Eliminates Money Judgements And Lawsuits
Creditors can use a money judgment to create a lien against your property. Depending on the state, the judgment can automatically create a lien against your property, or the creditor may have to record the judgment with the secretary of state or county recorder to create the lien (perfect lien).
In a state where the creditor has to record the judgment, the lien gives the creditor the power to seize your personal or real property. This means you must file for bankruptcy before the creditor records the judgment or the lawsuit is filed.
Even if the creditor manages to get a judgment lien, you can still file for bankruptcy if the debt involved can be discharged, or if the lien makes it impossible to protect the property through an exemption in bankruptcy.
You can also file a motion in court so that the bankruptcy court can remove a lien placed on your property. See also…car repo in Texas.
Not All Debts Are Dischargeable
Most unsecured debt is dischargeable. But debt such as alimony, income taxes, fines, restitution, student loans, child support, and others cannot be discharged.  A creditor can also ensure debt that in normal circumstances is dischargeable to be dischargeable. But the creditor will have to prove that the debt is connected to willful malicious injury, fraud, embezzlement, and other illegal activities by the debtor.
You might also enjoy…