You don't have to worry about repossession of your car or other property in Chapter 13 bankruptcy. You get to keep all your property, even cars because Chapter 13 is a reorganization of your debts. That means you will repay an amount of your debt within a certain period of time, and when that period of time ends, all the remaining debt will be discharged.
What You Can Do With Chapter 13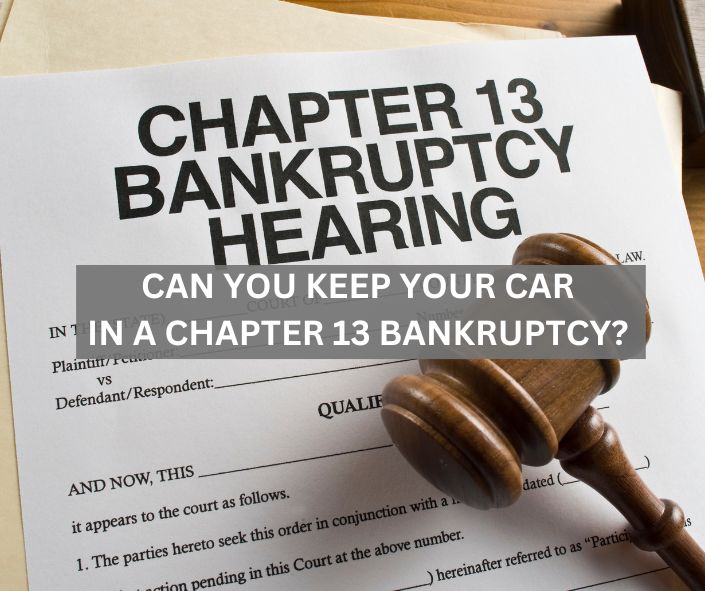 Unlike Chapter 7 bankruptcy which results in some of your non-exempt property getting sold, Chapter 13 protects your and lets you catch up on late payments.  Another benefit is your car loan's interest rate will reduce and the principal balance you owe will also be reduced. But to be eligible for Chapter 13, you must have a regular income so that your wages can be garnished every month.
Not everyone can afford to make Chapter 13 monthly payments, so some people choose to file for Chapter 7 bankruptcy.
Does Chapter 13 Bankruptcy Help You Keep Your Car?
Chapter 13 does not protect everything you own.   Your state determines what you get to keep in bankruptcy using "exemption" laws.  Items covered by exemption are protected when you file for bankruptcy but not in all circumstances. Bankruptcy exemptions sometimes don't cover an asset fully.
For example, bankruptcy exemptions may only cover your property's equity partly.  Any other item you own that is not "exempt" can be taken by your creditors.  Assets not protected by exemption laws are referred to as non-exempt items.
In Chapter 7, the bankruptcy trustee sells all your non-exempt property and distributes the proceeds to your creditors. For property that is only partially exempt, the trustee will sell it and give you the exemption amount instead of giving the full amount to creditors.  In Chapter 13, you get to keep your exempt and nonexempt assets.
But your Chapter 13 repayment plan ensures you pay for the nonexempt property. The bankruptcy trustees in this situation distribute your monthly payments to your creditors.
How Payments For Your Car Works In Chapter 13 Bankruptcy
When you no longer want a car that you were paying for you can give it back to the lender under Chapter 13. This allows for the debt related to the vehicle to be discharged.  But if you decide to keep the vehicle and you haven't finished paying for it, you will have to continue making monthly payments for that outstanding debt for that vehicle.
Failure to make the payments will lead to the lender repossessing the vehicle. This is possible because of the lien rights the lender has on the vehicle.
The lien right is in the agreement you signed when you bought the vehicle on credit, and it gives the lender the ability to seize the vehicle even if you file for bankruptcy.
How You Pay For Your Car Under Chapter 13
You can either make your car payments directly or through your repayment plan. But it's often cheaper to pay for your car directly to the lender because you don't have to pay the trustee fee.  Most of the time it's the court that decides how you will do it.