Most people who have to file for bankruptcy in Texas are probably doing it for the first time. That means that the whole bankruptcy process is unnerving and confusing for them. This includes all the bankruptcy terminology used can seem intimidating, which is why you need a Texas bankruptcy lawyer to guide you.
Below we have listed some of the 7 best bankruptcy attorneys in Texas, but first let's talk about the bankruptcy process…
Documents Needed To File A Chapter 7 or A Chapter 13 Bankruptcy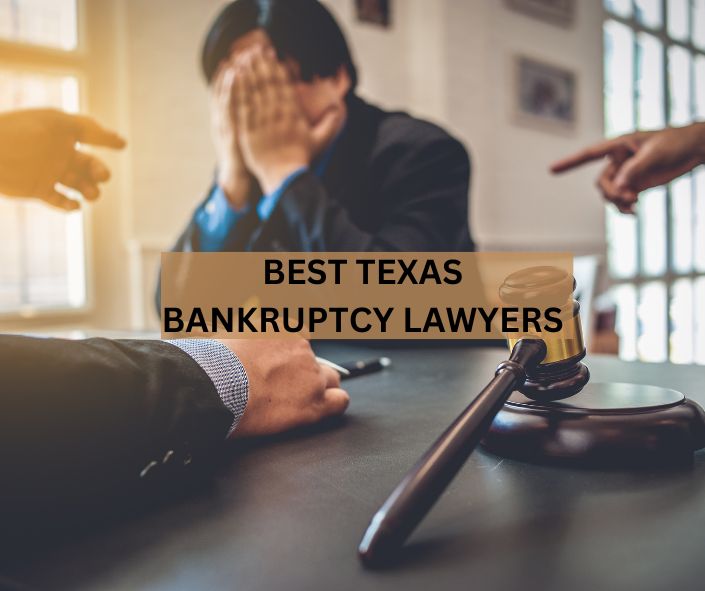 A Chapter 7 bankruptcy can eliminate all your unsecured debts such as hospital bills and credit card debts. But a Chapter 13 bankruptcy reorganizes your debts. Some of the documents you need to file for these types of bankruptcies include:
Deeds
Title documents
Monthly income
Monthly budget
A comprehensive list of your income sources
Tax returns for the last couple of years
Asset list
List of your recent major financial transactions
Apart from these documents, you will need to file a bankruptcy petition with the help of an experienced bankruptcy lawyer. Your lawyer can also help you fill out the many forms that are needed when filing for bankruptcy.  When filling out forms you need to remain truthful because any inaccuracies can catch up with you leading to the dismissal of your bankruptcy case.
What Happens When You File For Bankruptcy?
Once you file for bankruptcy an automatic stay comes into effect stopping any collection efforts of your creditors. That means no more late-night calls reminding you to repay your debts, no risk of repossessions or foreclosures, and other collection practices. The bankruptcy court will appoint a bankruptcy trustee to foresee your case. Trustees are required to review your assets and budget and figure out how your creditors are going to be paid.
Your creditors are going to be involved to some extent in some of these bankruptcy activities. For instance, they are allowed to attend the 341 meeting which is called by the bankruptcy court. Most of the time creditors choose not to attend the meeting because their participation in it is not likely to change anything for their benefit.
The meeting only takes about 10 minutes and mostly involves the trustee and the debtor reviewing their debt repayment plan. If they disagree on a plan, the bankruptcy court will intervene and create a plan. You need the advice of an experienced bankruptcy lawyer to help you agree to a plan that you can manage.
Stats For Chapter 7 And Chapter 13 Bankruptcy Cases In Texas
From the year 2005 to the year 2017, 68 percent of consumer bankruptcy petitions were filed under a Chapter 7 bankruptcy in the U.S. overall.  Only 32 percent were filed under a Chapter 13 bankruptcy. But Texas residents are more likely to file for a Chapter 7 Bankruptcy than a Chapter 13 bankruptcy. For example, in 2017, studies show that only 42 percent of consumer bankruptcy petitions in Texas were under a Chapter 7 bankruptcy.
The reason why filing under a Chapter 7 bankruptcy is popular is that it offers you almost immediate protection from your creditors. But filing for Chapter 7 bankruptcy is not always the right solution for everyone, and that's why you need to consult with a bankruptcy lawyer to determine if it's the right solution for you.
7 Best Texas Bankruptcy Lawyers
1. Attorney Dustin Sanchez
Truthfully, Attorney Dustin Sanchez is not one of the Best Bankruptcy Attorneys in Texas, but he is the best law firm website SEO expert in Texas. And the bottom line is this…if you are looking at any kind of "best lawyer list," then you can bet that Dustin Sanchez, a licensed attorney and expert SEO guy, had a hand in putting that list at the top of the Google search results. So, just keep that in mind as you are reading any sort of "top lawyer list." Our good buddy Dustin probably ranked that list in the Google search results and you have to do your own due diligence in selecting any professional to work with. –Find Dustin Here
2. Brian D. Williams – Attorney At Law
Attorney Brian D. Williams has over a decade of experience practicing law in Texas. When you consult with Mr. Williams, you can count on direct, honest advice suitable to your unique circumstances. If bankruptcy is a bad idea or unnecessary in your case, you will understand why after discussing your situation with him. –BDWilliams.com/bankruptcy
3. Guzman Law Firm
Eloise A. Guzman of Guzman Law Firm is a Houston bankruptcy attorney who is devoted to helping her clients get free from debt. She is thoroughly familiar with all aspects of bankruptcy and can assist you with any type of case, no matter how complex. When you come to her, she can identify all of your options, advise you on the best course of action to take, and help you move forward into a debt-free future. –GuzmanBankruptcy.com
4. Allmand Law
Reed Allmand's vision is rooted in his own financially precarious childhood in Abilene. "My father always had difficulty holding a job and supporting our family, so after my parents divorced when I was 12, my sister and I got jobs to help make ends meet," he recalls. "I remember what it felt like as a child to worry that our car would be repossessed or home foreclosed on. I knew that I wanted a career that would give me financial security and allow me to support a family." –AllmandLaw.com
5. Leinart Law Firm
At Leinart Law Firm, our Texas bankruptcy attorneys are committed to doing right by our clients and providing compassionate, experienced legal services you can trust. Whether you need help with debt management or you've been the victim of someone else's negligence, our skilled bankruptcy attorneys in Dallas and Fort Worth are here for you. –https://www.leinartlaw.com/bankruptcy-lawyers/
6. Law Office of Susan G. Taylor
Experienced, dedicated bankruptcy lawyer serving clients in Austin, San Antonio, Midland/Odessa, Waco/Temple/Killeen, and surrounding counties within the Western District of Texas. –https://www.affordabletexasbankruptcy.com/
7. Mike Wallace Bankruptcy Lawyer
The good news is that there's a light at the end of the tunnel in the form of bankruptcy. Contrary to popular belief, bankruptcy is not a financial death sentence, nor is it shameful or life-ruining in any way. Rather, bankruptcy is a financial tool that is designed and intended to be used by people who have accumulated an unmanageable amount of debt and need a financial fresh start. –https://wallacebankruptcy.com/
Texas Bankruptcy Lawyer Near Me